Atelieri O. Haapala – Neo Vicotorian Photography
---
Atelieri O. Haapala is an art project of the fantastic duo Saara Salmi and Marco Melander. It was founded in 2008 and since then they have photographer over 6000 people around the world. We got together with the couple to talk about their upcoming book, which is currently being funded.
---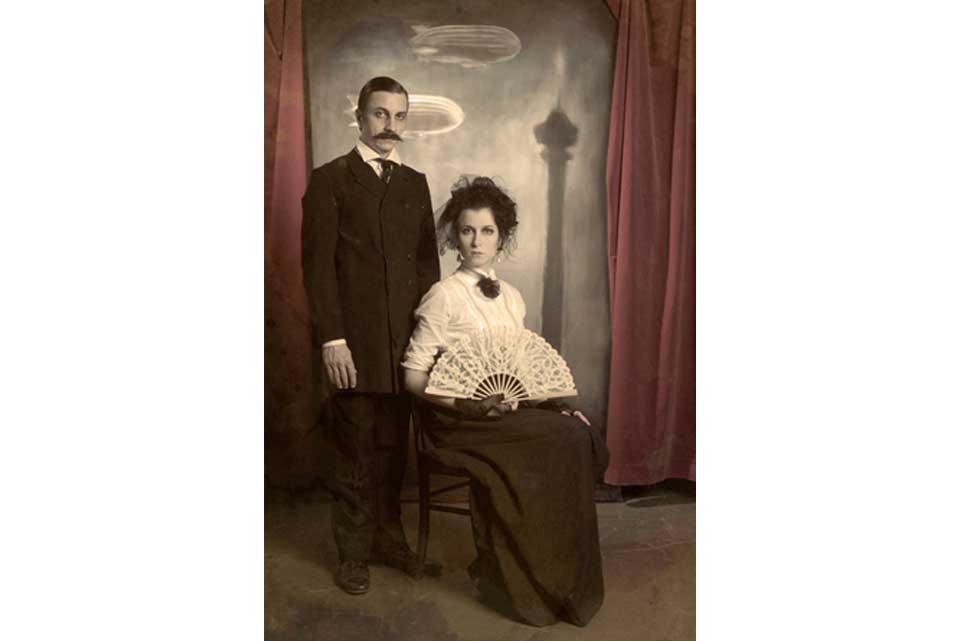 Copyright: Atelieri O. Haapala
---
Where did the idea for the book come from?
After nearly a decade of working together we wanted to have a break from this project. We felt that we were repeating ourselves and getting bored of the work, and we wanted to do something else. It's been refreshing having this one-and-a-half year break and we realized how important this project was to us. With this book we want to put all the best works together and celebrate our project's 10th birthday (this autumn). 

Can you tell us a little bit about Atelieri O. Haapala? 
Atelieri O. Haapala is the joint project of visual artist Saara Salmi and photographer Marco Melander. We combined our artistic talents and formed a Victorian style touring portrait studio. We also created our alter egos Mrs O.Haapala (Saara) and Mr H.Schweinstein (Marco). These alter egos do all the photoshoots – it's a sort of a performance at the same time. 
The studio name comes from Mrs Onyxei Haapala. She is a completely fictional character from the 19th century and Haapala is a common Finnish last name. Combined with "Atelieri" (Atelier in Finnish) it sounded very good so we picked it. Our inspiration were, the cabinet card and cartes-de-visite, which always had the studio name and logo printed. 
At first our camera was disguised inside a classic Victorian-looking wooden camera. Marco / Mr Schweinstein was operating the camera under the black hood, so Saara / Mrs O.Haapala had to give instructions for the posers. Sometimes the events were very noisy, so this was practical. After some time, we gave up the wooden camera box, because it was a little bit clumsy. But we got so used to this way of working that still today, even in a quiet studio, Marco operates the camera and Saara is next to him directing people. For the retouching we use photoshop. Saara developed the looks and styles, our "digital chemistry", which was a bunch of layer effects and textures.
---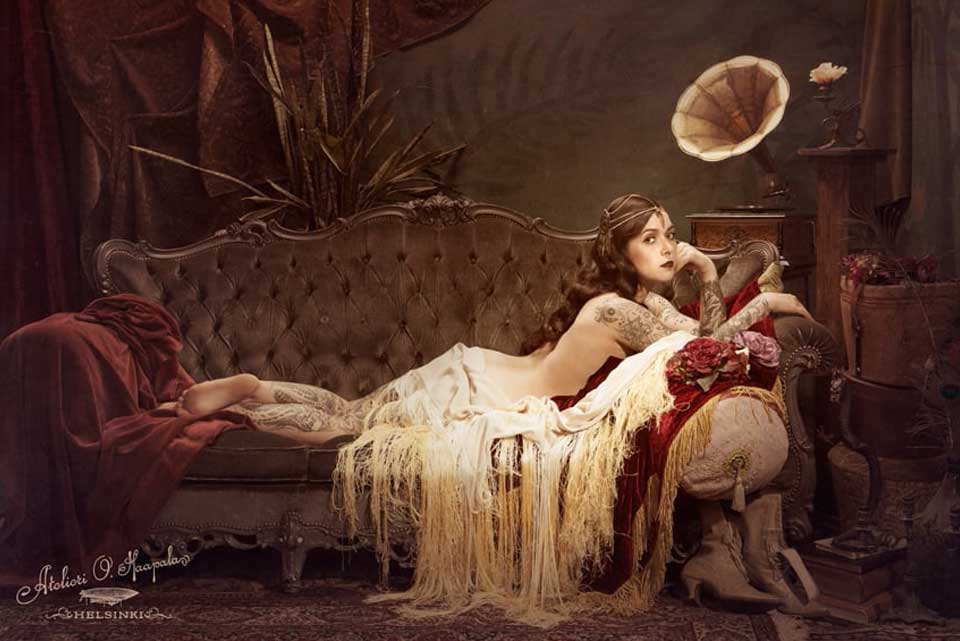 Copyright: Atelieri O. Haapala
---
What fascinates you about Neo-Victorian Photography?
It's fun to take inspiration from the Victorian era and turn-of-century photography, and have the freedom to interpret it. The technique doesn't need to be wet plate or daguerreotype. With digital camera and photoshop we can imitate the old techniques, but add a little bit of colour and fantasy, and create our own style.
What can the readers expect from the book?
We aim for the best quality with 250 pages and 200 photographs. The book cover will resemble Victorian design with ornaments and gilding, but will still be fresh and modern. It will be an exquisite object that will stand out like a jewel in the book shelf.
---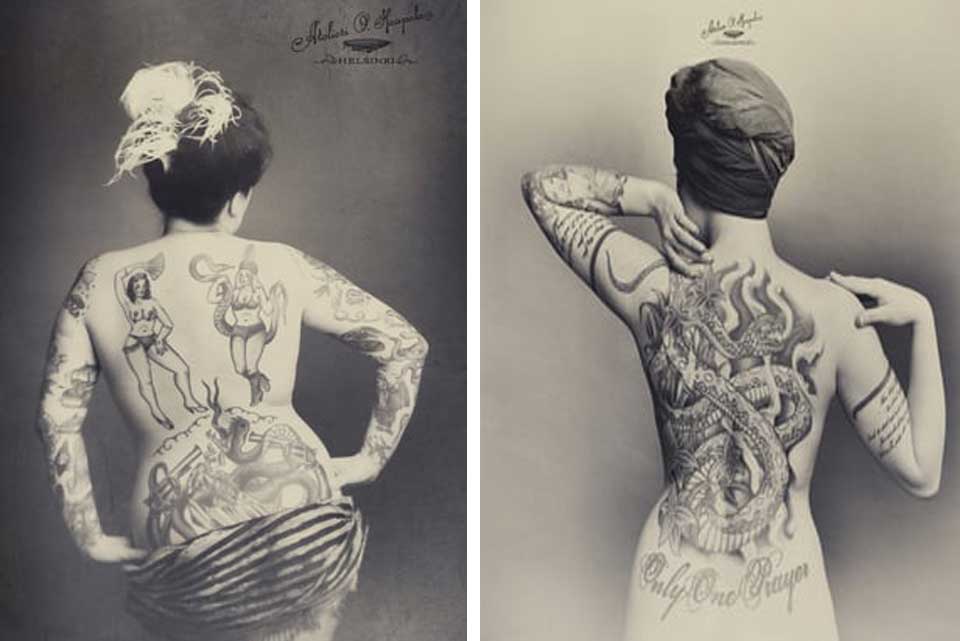 Copyright: Atelieri O. Haapala
---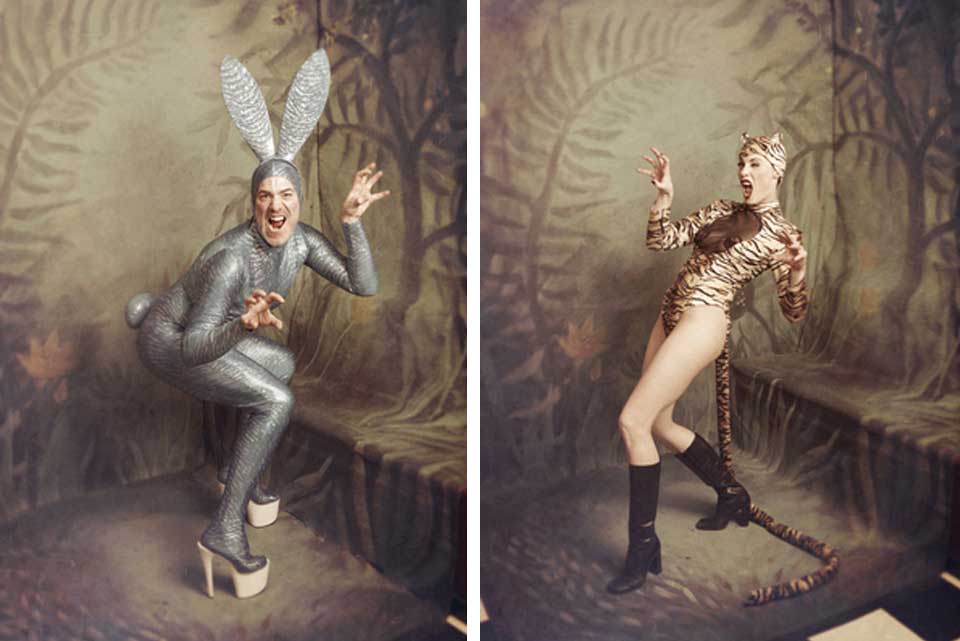 Copyright: Atelieri O. Haapala
---
What does this book mean to you?
It feels very important to us. We are very grateful to our audience and fans for encouraging us to make so many photographs – more than 7000 altogether. If it was possible, we would put all of them in the book, because everyone that we photographed is part of this project. As an idea, the book collects everything we made during ten years.
Which photograph is your favourite?
Impossible to pick one photograph! We are able to pick 300 favourite photographs - that's what we've done so far, but we still have to take out a hundred. Only 200 will fit in the book. Some pictures have a very special feeling in them, because we remember the moment of the photo session so vividly. Some people share very personal things with us, and we feel connected to them. 
What is your fondest memory of Atelieri O. Haapala?
Our trips abroad. Traveling and meeting new people is always exciting and refreshing. Each of our trips has some very special memories. 
What can we expect from you in the future?
This autumn we will have an interesting exhibition in Kuopio, Finland. It's in a museum that used to be a studio of a master photographer Victor Barsokevitsch (1863-1933). From his archives there have been found many portraits that are almost identical to ours, and these will be shown together. 
Also Saara is developing a new body of work with something completely different from portraiture, including more painting than photography. She will still be true to her fantasy-driven escapism.  
Marco is working on with something a little more conceptual than he has done before. It has old portraits and paintings involved. But we can't really tell more before we actually have something to show. 
---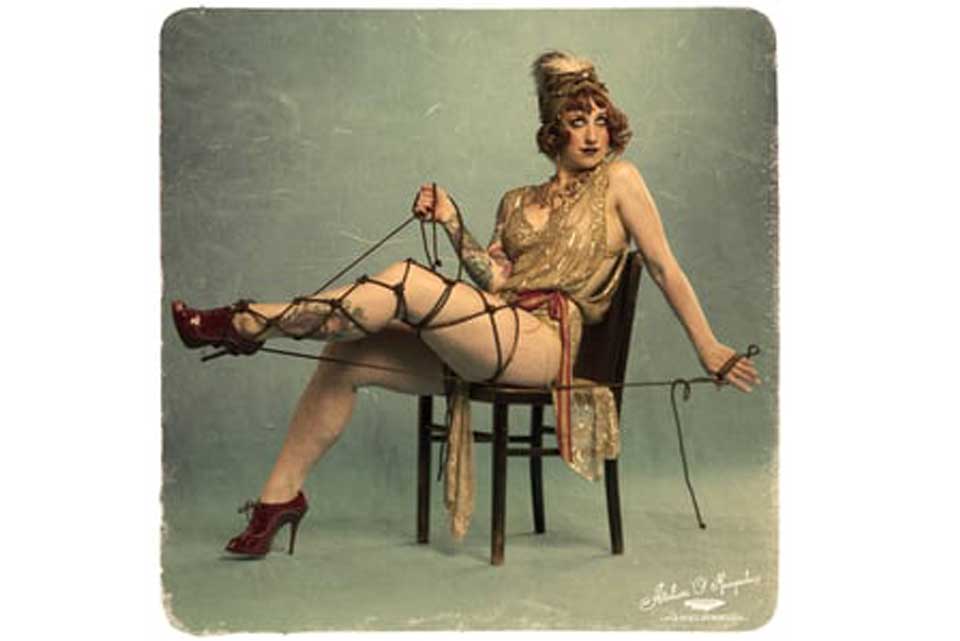 Copyright: Atelieri O. Haapala
---
For more information about the exhibition go to:  http://www.ohaapala.com/
WHAT: Atelieri O. Haapala: Neo-Victorian Photography - Book
TO SUPPORT: bit.ly/ohaapala