Fashion History Accounts you should follow on Instagram
---
We have all been there, browsing through Instagram and all of a sudden thinking: "Where has all the time gone? I really need to stop procrastinating and get my act together." How about the next time you check your Insta, you add some accounts where you can also learn something? Why not indulge in your guilty pleasure without feeling so guilty after all and bulk up on some fun facts? We have created a list of our favorite Fashion History accounts on Instagram and hope you enjoy them as much as we do.
---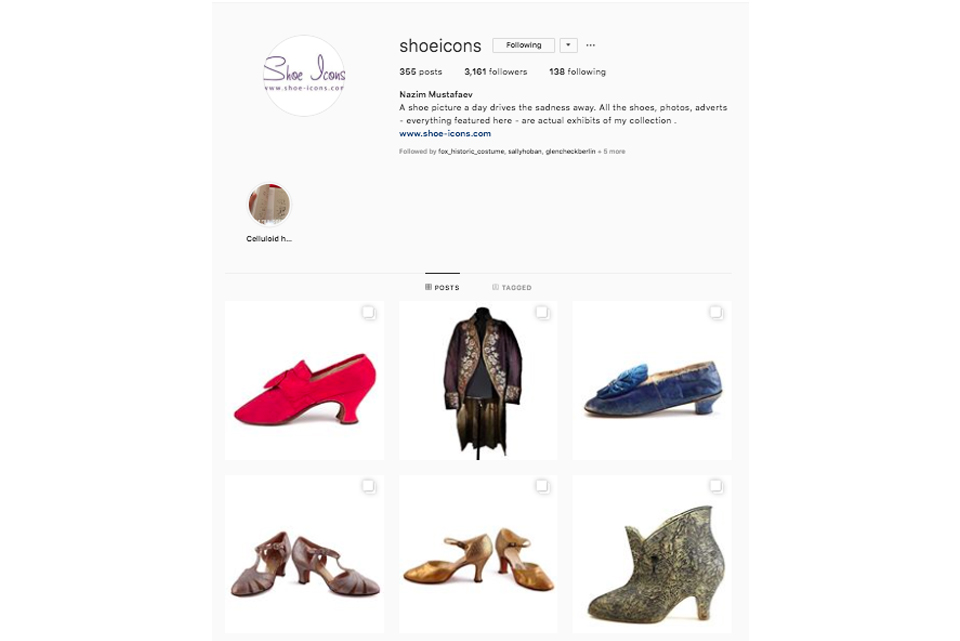 Shoe Icons is run by Nazim Mustafaev, who compares himself as a secret agent: during the day facing business challenges and at night hunting for new items for his collection. His passion for vintage shoes was born while working in Moscow for a footwear show. He now has a collection of about 2500 pairs starting from the 17th century to now. He calls his collection a shoe museum in contrast to a museum of shoes, meaning that collection is centered around shoes but has a lot of other shoe-related items, which are indispensable for understanding of the development of the shoe-making and shoe fashion. After he has too many of his shoes on Instagram he decided it would be better if he told people about the shoes himself.
---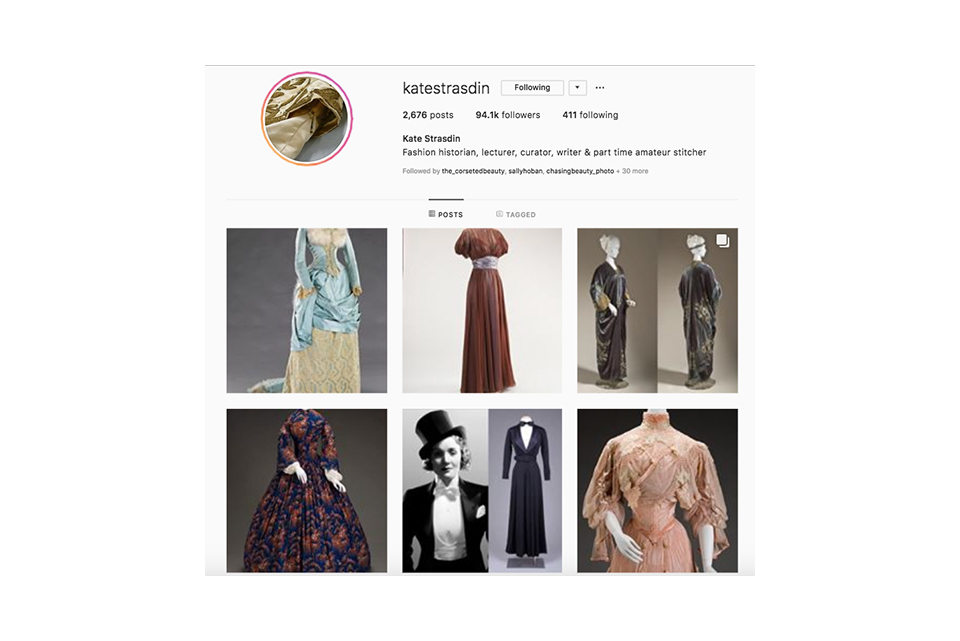 Kate Strasdin is a Senior Lecturer in Cultural Studies at the Fashion and Textile Institute, Falmouth University. She is also a specialist visiting lecturer at the DeTao Masters Academy in Shanghai and a Lecturer for the Arts Society. Her book Inside the Royal Wardrobe was published by Bloomsbury in 2017.
---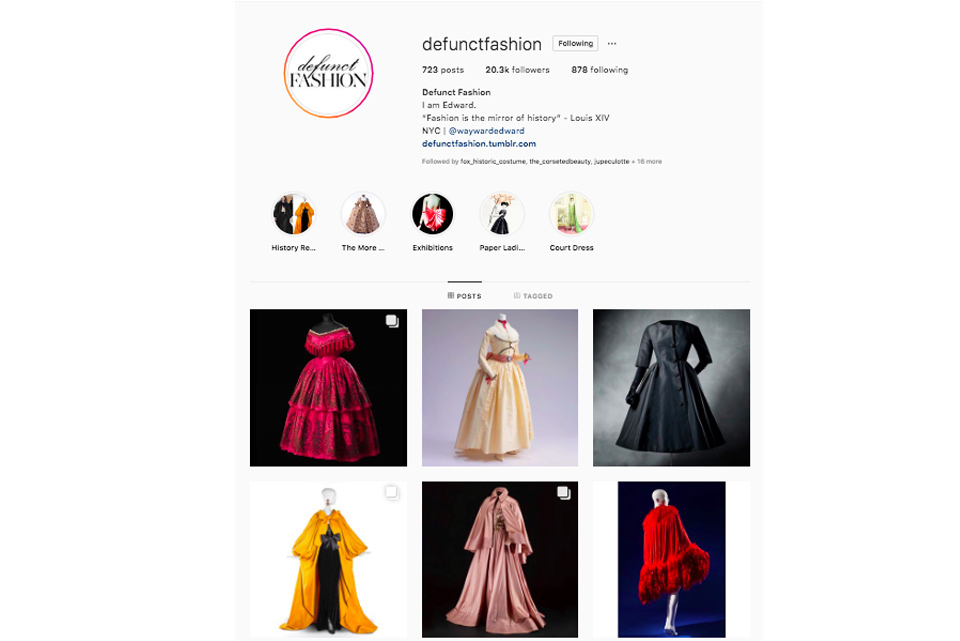 Defunct Fashion was started by Edward Espitia 11 years ago as online inspiration board on Tumblr (before Pinterest was around) for university projects. He majored in Fashion Design and Costume Design. It was one of the first historic fashion blogs on the platform and it quickly gained thousands of followers. In 2017 Edward started posting on Instagram and has found a large following that includes celebrities, iconic fashion designers, fashion historian experts and many enthusiasts and lovers of beautiful design of years gone by. Edward is currently working in fashion marketing and will be starting grad school in the Fall to pursue an MFA in Costume Design. 
---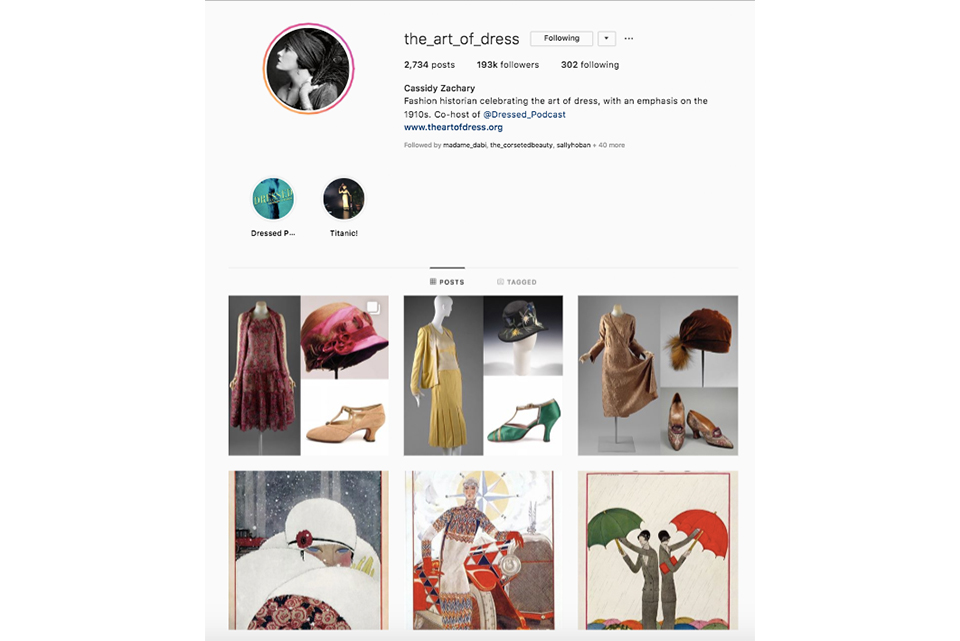 Cassidy Zachary is a fashion historian, author and podcaster living in Albuquerque, New Mexico. Cassidy received her MA in  Fashion Studies from the Fashion Institute of Technology, New York City in 2012 where she met April Calahan. Together, they host the podcast Dressed: the History of Fashion on the How Stuff Works network. Their first book Fashion and the Art of Pochoir was published by Thames & Hudson in 2012. You can also check out her blog.
---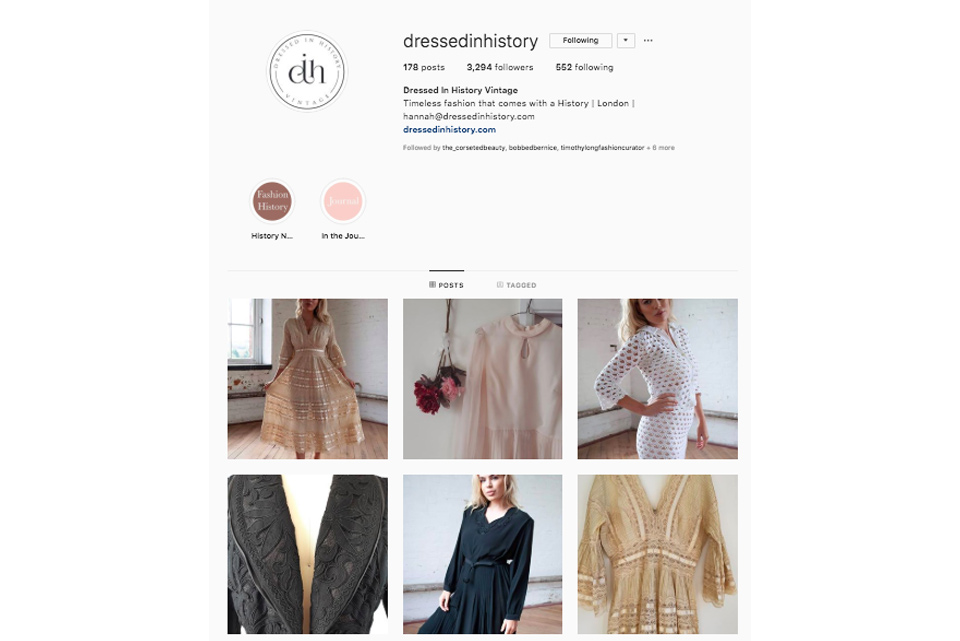 Hannah's Dressed in History started life as a small instagram account where she posted images of historical dress to nurture and share her passion for fashion history with others. It not only provided a focus and outlet for her love of old clothes, but the lovely responses she received gave her the confidence to dream of developing her little enterprise further. In August this year, she launched Dressed in History Vintage as an exclusively online vintage boutique and created a website where she regularly writes blog posts, focusing on the history of fashion. She always try to keep a historical focus upon the garments she offers and enjoys sharing images of them on instagram where she can talk about their history and share their beauty with others. She is still in the early stages of developing the Dressed in History website but she hopes to create online space in which lovers of fashion history and vintage clothing can indulge in their passion and connect with other like minded people.
---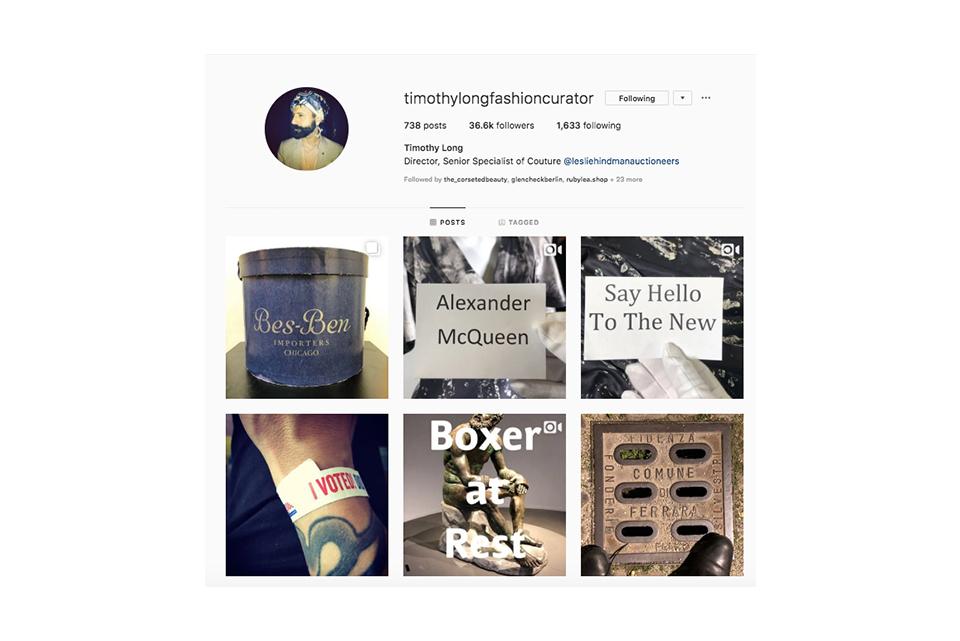 Timothy Long is Director, Senior Specialist of Couture at Leslie Hindman Auctioneers in Chicago. He is an experienced author and museum curator of fashion and has worked in the world's leading collections of historic clothing, textiles and decorative arts, including the Museum of London, The Museum at the Fashion Institute of Technology in New York and the Chicago History Museum. His recent publications include Charles James: Designer in Detail and a chapter on the same designer in London Couture: British Luxury 1923-1975, both in 2015 through V&A Publishing.
---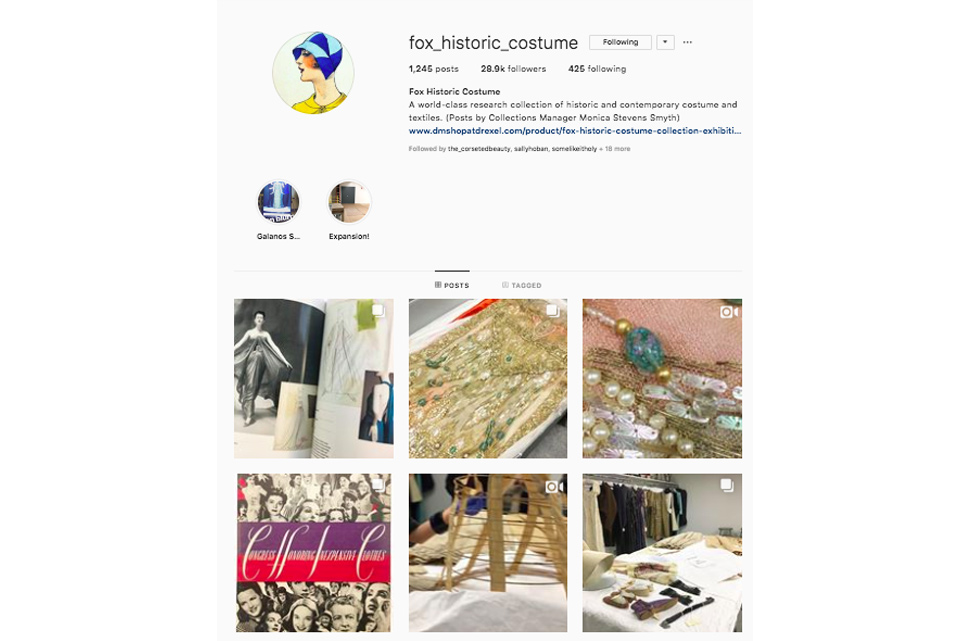 The Robert and Penny Fox Historic Costume Collection (FHCC) holds over 15,000 objects related to fashion, from garments and accessories to illustrations and photographs. The mission of the Robert and Penny Fox Historic Costume Collection is to educate and inspire through the documentation, exhibition, and preservation of historic costume.  Monica Stevens Smyth is the Collections Manager and Instagram Account Manager at the Robert and Penny Fox Historic Costume Collection (FHCC) at Drexel University, where she also teaches Costume History of the 20th Century under the Art History department. Her specialties include object care, exhibition mounting and dressing, assisting design students with object research, and teaching and developing costume history curriculum.
---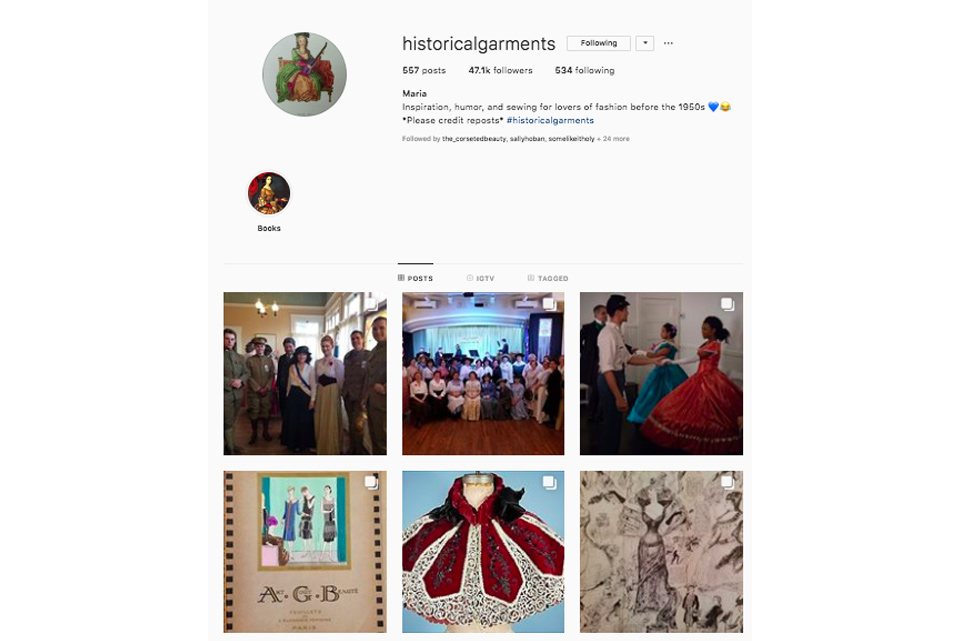 Maria Aceituno first fell in love with historical garments as a young girl and it all started with bustle dresses. She taught herself to sew in order to create the items she could not find in stores. As a long time educator, researching and recreating fashion history combines her love learning and sewing as a hobby. She works in educational technology and spends her time off gathering information on fashion pieces that catch her eye.