MORPHIUM - Weimar Berlin inspired exhibition
---
Alana Richards is a Berlin based artist who will take us back to Weimar Berlin, in her upcoming exhibition "Morphium - Hallucinations of a Kabarett". We met her at her Studio in Berlin – Kreuzberg to chat with her about her upcoming exhibition.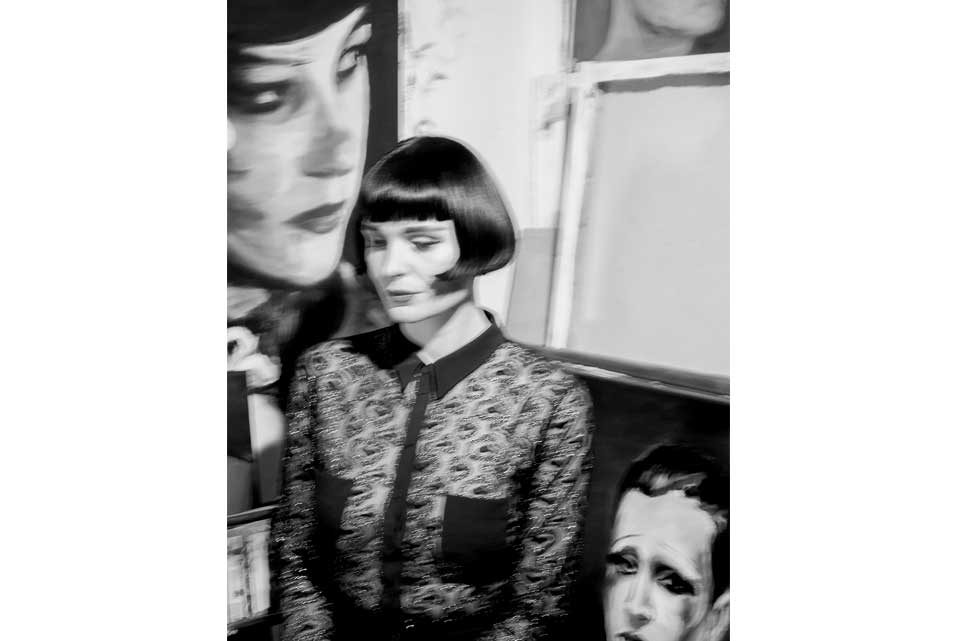 Artist Alana Richards
---
Where did the idea for the exhibition come from? 
The idea for the exhibition came to me shortly after I first saw  Kabarett der Namenlosen. I was really taken back by it, it was something that I had never really seen before. I have always had a weakness for Berlin in the 1920's, I have read lots of books about the period but I certainly had not witnessed anything like this show. It was incredibly inspiring; the colours, the style, the mood, the incredibly eclectic and talented performers. I also love the idea of two very different methods of expression (performance and painting) coming together. A few weeks later I got in contact with the director Le Pustra and asked if he would be interested in me doing an exhibition about it, and indeed he was. 
What can the audience expect from Morphium - Hallucinations of a Kabarett? 
I want to recreate the feeling of the theatre piece in a gallery setting using installation, painting, photography and video. On the opening night we will have two exciting performances from two characters from the show. 
Why did you choose this particular name? 
The exhibition takes its name from a composition by  Mischa Spoliansky which originally written for the scandalous dancer Anita Berber - named in homage to Morpheus, Greek god of sleep and etymological root of the opiate that had so infected Weimar Berlin. This song also features prominently in Kabarett der Namenlosen, creating an ominous atmosphere steeped in mystery and melancholy. We wanted to use something quite prominent from the show and something a little provocative.
"In art only the bizarre is beautiful" - Charles Baudelaire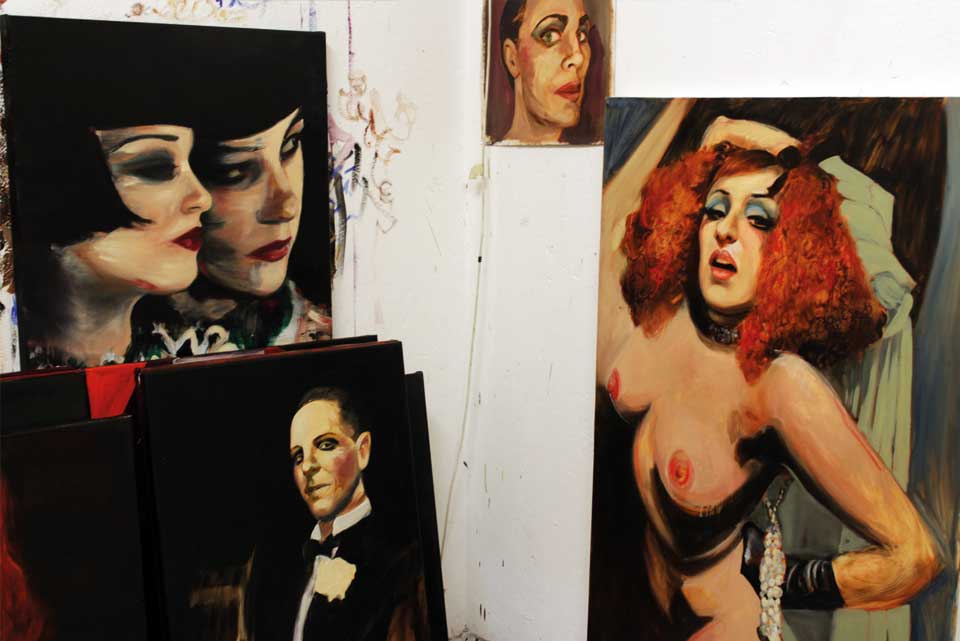 Alana Richards Studio
---
What does this exhibition mean to you? 
At the moment it means everything. I have worked a whole year on it, which is the longest I have worked on an exhibition or any one project. 
How do you go about painting a portrait? 
All of my paintings start with a photoshoot, it's a very important part of the process. I need to see how the model moves and holds her/himself. This is what inspires me to paint people. I prefer to use analog photography but sometimes also use digital. My painting technique is influenced by artists like Degas and Manet, I always work from an underpainting and work my way from dark to light. I'm highly critical however and will quickly destroy (or paint over) a painting if I feel it is not going well. For this exhibition I will present 11 portraits but I definitely made over 20 (many of which do not exist anymore).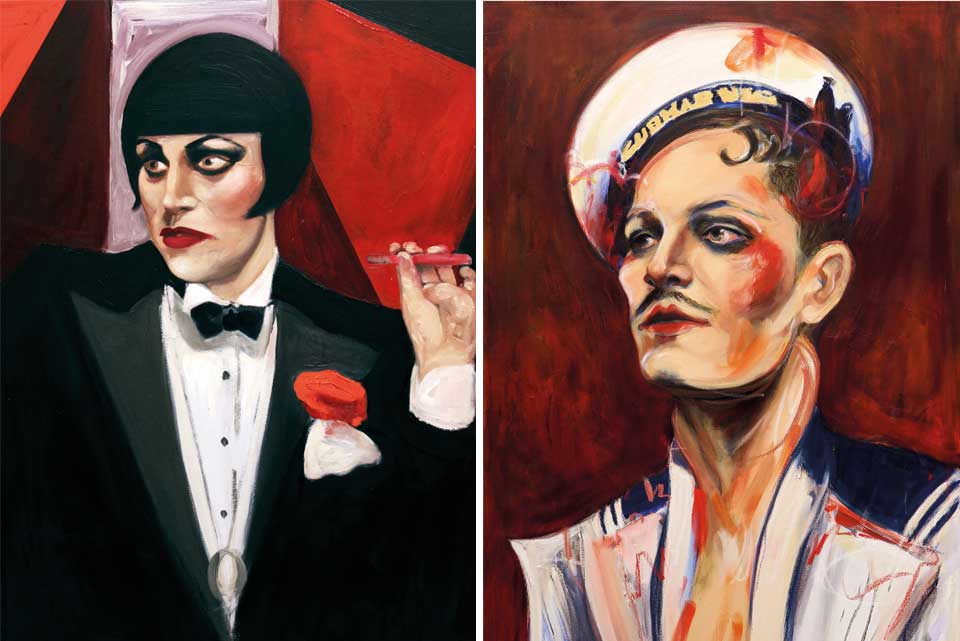 La Garçonne & The Sailorboy
---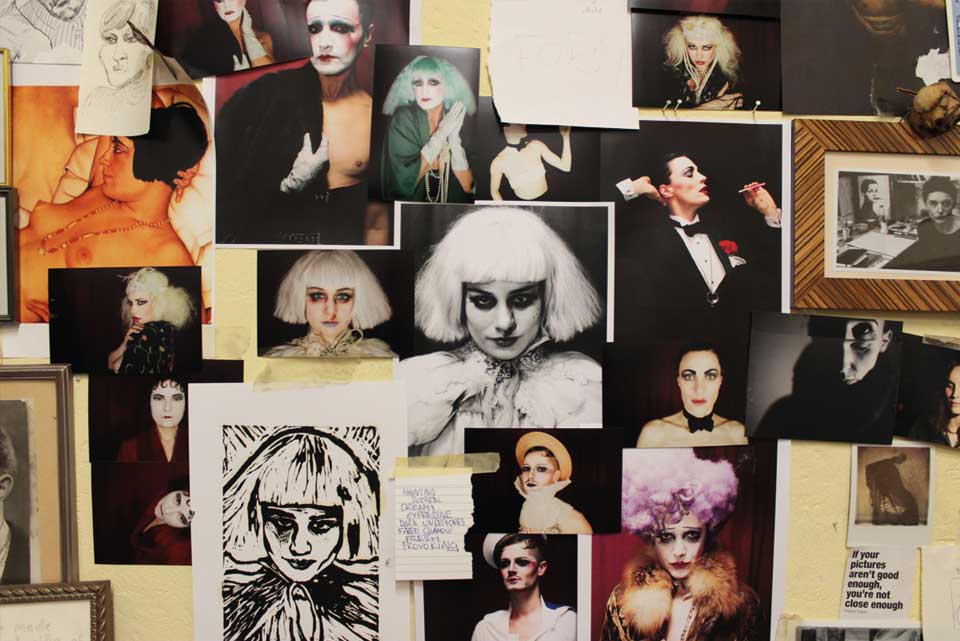 Alana Richards Studio Wall
---
What were you biggest challenges, while organizing this exhibition? 
As the exhibition has been crowdfunded, my biggest challenge was definitely making the video for this, I am not so comfortable on camera and especially talking directly to the camera, this was the hardest part. 
Which piece is your favourite? 
It is very difficult for me to pick a favourite...I like the portrait of  Mama Ulita, I based the angular structure on a painting by one of my favourite artists Tamara De Lempke which I think suits Mama Ulita's presence in the show. I also like the portrait of ReveRso, as he is quite a dark and often grotesque character in the show but I did not want to show him in this way as I also feel he has a softness and a beauty. 

For more information about the exhibition go to: www.alanarichards.co.uk/ 
WHAT: Morphium - Hallucinations of a Kabarett Exhibition 

WHEN: 23 February 2018 - 6 March 2018
WHERE: The Ballery, Nollendorfstraße 11, 10777, Berlin